Hours:
- Mon-Fri 10am - 9pm
- Sat 11am - 9pm
- Sun 12pm - 9pm
(610) 489-2110
3969 Ridge Pike
Collegeville, PA 19426
Find us on Google Maps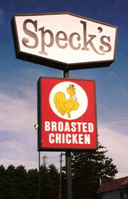 Speck's Drive-In has been a family owned and operated establishment since 1953.

Our broad menu offers flexible ordering of our award winning Broasted® chicken, sandwiches or daily specials. We also offer a large selection of side dishes, including garden salads & our secret recipe coleslaw.

We are the perfect solution for various dining needs -- meals on the go, an inexpensive family dinner out, entertaining or organization meetings.


• Broasted Chicken
• Sandwiches
• Soups
• Salads
• Sides
• Milkshakes
• Kid's Meals
• Party Orders